Each year we line out the garden in late July, August and September. We normally sell clumps, or whatever is there. Because of catalog deadlines, we make our "counts" in mid-October. If we think a particular variety is slow to increase and "might" be single divisions in the spring, we say so in the catalog. But, we really do not know, and oftentimes these "single divisions only" cultivars may be clumps by June. - Just wanted you to know.
We were pleased with the shipping this past season using the USPS. Their rates were lower than other carriers, and we were able to retain lower shipping rates. We always like to hear about the condition of the plants you receive.
We have always said that the bloom period is far more important than the bud count. A show winner requires branching and bud count, but do not forget that these usually bloom out fast. Forty buds, with five blooms a day equals 8 days of bloom. Ignore bud count. Always ask about the bloom season.
I am a bloom pincher. I love to break blooms, line them up, and compare cultivars. Soil and weather conditions make a difference, but a "line up" can be very revealing: clarity of color can be recognized. "Bluish" colors can be compared more readily. How much orange does a red really have? Try this with your daylilies.
This season we are introducing a variety of forms and colors in both tetraploids and diploids. First with us is always color. We love beautiful color, and the '07 introductions will have this as a special quality.
Seedlings here continue to show improvement. Wide, ruffled segments are now common, but we do not always choose these as they may be beautiful but lack distinction or good plant habit.
We are particularly pleased with the reds, especially those from H. Tetra Javier. The colors were of such good red to rose-red coloration. Several of these will be introduced next season.
The "bluish" eyezones appeared in greater abundance, with the most striking being a purple with a "bluish" eyezone. We are growing this one for '08 also.
At last, we "think" that we have the successor to Majestic Move, High Roller, and Majestic Freedom. Being larger and more flamboyantly ruffled, it should please the most discriminating.
After several years of struggling to get good slides, this year we only did digital images. We downloaded the pictures daily for 22 days on Van's laptop computer. The flowers were beautiful and rather correct in coloration. When Vic put the pictures on his computer with a 21 inch LED screen they were more brilliant in coloration. It then dawned on us that the catalog printer may see a third version of the pictures!
An update on Van's rose collection:
I increased the rose collection by adding
R. Home Run, Lady Elsie Mae, Morden Fireglow, Autumn Sunset, Westerland,
and others.
It appears that Home Run will be as disease-free as the "Knockouts". It has lush green foliage with a very bright red single flower. I cannot report on the others yet. So far, I highly recommend Knockout, Double Knockout, Pink Knockout and Blushing Knockout, Ramblin' Red (a climber), Hot Cocoa, Easy Living, and Mutabilis.
Ah, the mums. Those of you who know about my mum saga will be interested in knowing how beautiful they are this fall. The exceptional ones are staked so we will know which one to make cuttings from in the spring. The "reds" are really red - and glorious. Yes, C. Yoko Ono really is green, much greener than Revert, which we called green last year. Alas, no one sees them except us.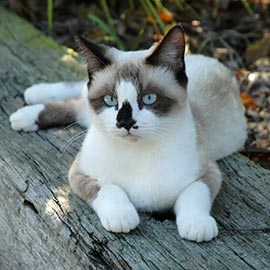 A "new" kitty found its way to our doorstep. Thin, hungry, and frightened, it cried in the bushes. Vic was finally able to scoop it up and called it a "keeper." Siamese in coloration, she is both hated by Zeke and ignored by Spitz, our other two cats. We named her Kiwi, and she comes when called and follows us around like a puppy. She has turned out to be a terrific hunter which is what we needed. Zeke and Spitz have turned 12 and 13 years old and have decided that hunting for a lap is better than hunting for critters.
If possible we encourage you to come to our Carolina Breakfast Club meetings. We meet 9:00 AM, the second Wednesday of each month at a different location for daylily chatter and camaraderie. E-mail for specific information.
For information about our Region 15 activities, go to our website at www.ahsregion15.org. Thanks to Rebecca Board, our regional RVP, it is certainly one of the best regional websites. On this site you are able to obtain all regional news, including meetings, clubs, and garden reports.
Visit NC - and visit NC daylily gardens. From the mountains to the seashore (we are called the Variety Vacationland). We have daylily gardens (and botanical gardens) to please everyone. Though this list is certainly not complete, within an hour's drive from Iron Gate Gardens, you may visit Becky Adams, Terry Baucom and Jennifer Prowe, Cindy Dye, Betty Earl and Bob Marshall, Bill and Linda Gluck, Paul Owens (a fabulous new garden), Emily Olson, Jim Siwik, Dan and Koko Robinson, J. D. Stadler, and Judith Weston.
Within a 2 hour drive, you may visit Cheryl Alderman, Jim and Peggy Jeffcoat, Memory Jordan, Dale Hensley, Dan and Jackie Lovett, and Bob Selman.
We believe that within two hours you will find some of the finest gardens and daylily collections in the country.
Ordering Information:
Our shipping season runs from about April 1st until the first week of June. We accept no catalog orders after June 1st. Garden sales have then begun. We mail no catalogs after June 1st. Any requests received after June 1st will be honored the following year.
Club Orders:
Clubs are encouraged to call to receive details about orders and availability.
Garden Visiting:
We will be open from May 23th through July 15th. WE WILL BE OPEN FIVE DAYS A WEEK, Wednesday through Sunday, 9 AM to 5 PM. We are closed Monday and Tuesday so that once again, we are able to visit other gardens during the bloom season. If you find it convenient to visit at another time, please call to be sure there will be someone here to help you, and the gates are open.

2271 County Line Road
Kings Mountain, NC 28086

We are located between Kings Mountain and Cherryville on Hwy. 216 (eight miles north of Kings Mountain and four miles south of Cherryville). We are about 10 miles north of I-85, depending on which exit you take from the interstate.
If you are coming north on I-85, it is easiest to exit at Hwy 216, marked "Kings Mountain" or "Kings Mountain Military Park." Continue north through downtown Kings Mountain on Hwy. 216 until you see the "Iron Gate Gardens" signs on the left.
If you are going south on I-85, take exit 10B, "74 West, Kings Mountain - Shelby." Continue for about 2.5 miles to the third exit. It will read "Cherryville-Kings Mountain, Hwy 216." Turn right (north) at the exit onto Hwy. 216 and travel about eight miles. Our signs will be on the left.